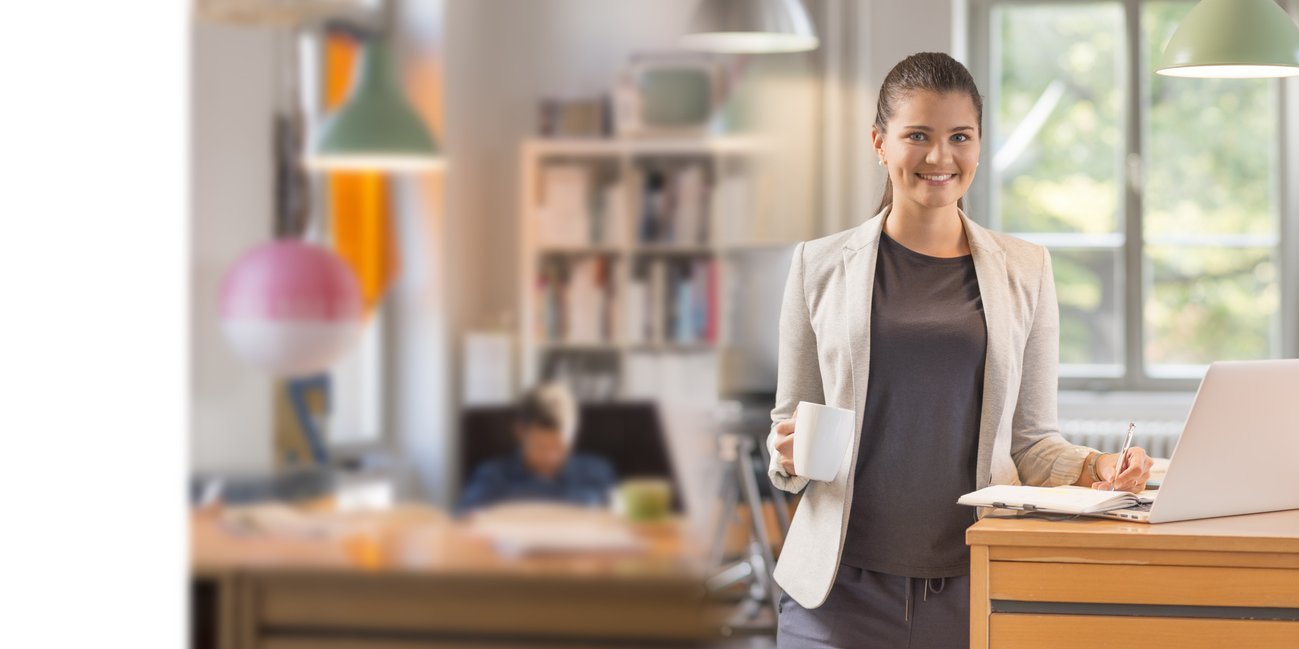 Part-time or dual
Combine study and work
IBWL part-time
IBWL dual
Overview of the programmes
1. Combine study and work
Would you like to continue your education at university level, obtain a Bachelor's degree and continue working full-time? Then the Bachelor "International Business Administration" is a good choice for you!
In both study variants, in addition to theoretical content, you can expect practical instruction in the form of projects and case studies. You can then apply the specialist knowledge you have acquired directly in your workplace. At the same time, you will bring your professional experience into your studies. This creates a varied and interesting learning environment for everyone involved, in which company know-how and teaching at the university complement each other perfectly.
The degree programme is offered in a dual and part-time form. The majority of the courses are taken jointly by dual and part-time students, but the variants differ significantly in the extent to which your company is involved in the study programme. Simply choose the option that suits you!
2. IBWL part-time
In the part-time version, the study programme is independent of the employer. The company where you work is not involved in the study programme, all courses take place at the university. The extent to which you bring projects or topics from your work environment into the study programme (e.g. in projects or your final thesis) is up to you.
This gives you the opportunity to stay in your current job and prepare for new challenges in the company. Many companies support their employees in this - for example, by giving them a financial contribution or by giving them time off so they have more time to study. It is best to talk to your employer before you enrol to see what options are available.
Would you like to leave your employer out of it altogether, e.g. because you want to use your Bachelor's degree as a springboard for a completely new professional challenge? Of course, you can also do this in the part-time version. We will only contact your company if you wish to do so.
In the part-time variant, you will first be enrolled as a continuing education participant at the university. This gives you the opportunity to start your studies without a → higher education entrance qualification (HZB): However, you will need an intermediate school leaving certificate and a completed vocational training or advanced vocational training. You do not have to prove that you have the HZB until you change to the study part in the 7th semester - and thus still have enough time to take a → university entrance examination, for example. You can find more information on entering the degree programme under → "Registration".
3. IBWL dual
The dual study option is carried out in cooperation between the university and the company. Theory and practice are closely interlinked. The professional activity is integrated into the study programme. In special practical projects, the scientific examination of concrete tasks from your work environment takes place.
The practical projects take place during your working hours in the company and are supervised by a company supervisor and a university lecturer. This allows you to complete your studies in the dual version in six semesters - two semesters earlier than in the part-time version. In addition, you will usually write your final thesis on a current project in your company.
In the dual variant, you will be enrolled as a student at the university from the first semester onwards. Accordingly, you must already have a → university entrance qualification when you start your studies. You can choose your company yourself - whether you want to start a dual study programme with your current company or apply specifically to an interesting company for a dual study programme. You can find more information on entering the dual study programme under → "Application".
4. Overview of the programmes
| | | |
| --- | --- | --- |
| | part-time | dual |
| Company | Not involved in the study programme | Close cooperation between company and university, especially in practical projects |
| Duration of studies | 8 Semesters | 6 Semesters |
| Study location | University | University and company |
| Schedule | Wed and/or Fri 17.45 – 21.00; Sat 09.00 – 16.00 | Wed and/or Fri 17.45 – 21.00; Sat 09.00 – 16.00 |
| Admission requirements | No prerequisites for starting the programme. (Proof of higher education entrance qualification must be provided based on the 7th FS) | University entrance qualification & student contract with a cooperation company |
| Costs | You pay the participation fee yourself. Your employer is welcome to contribute to the costs. You can find more information on the topic of financing in the section "Costs". | You pay the participation fee yourself. Your employer is welcome to contribute to the costs. You can find more information on the topic of financing in the section "Costs". |
| Salary | You continue to work regularly and receive your usual salary. The university is not involved. | The cooperation company pays you a salary, which is specified in the student contract. |
| Funding opportunities | You can find more information on the topic of financing in the "Costs" section. | You can find more information on the topic of financing in the "Costs" section. |
further information:
Aktuelles & Termine (Kopie 1)